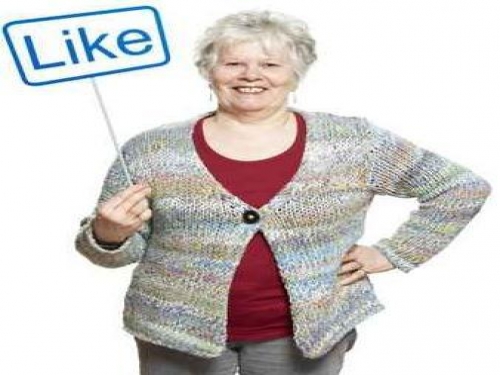 Menopause is a natural biological process that women go through as part of the ageing process. Menopause happens when the ovaries stop producing eggs each month and menstruation stops for a period of twelve months. Menopause marks the end of women's reproductive years. Natural menopause happens between 45 and 55 years of age, the average age of menopause is 51.
The new generation of menopausal women is increasing their use of the internet. Social media use is now strong for those in the 50-64 and above age bracket. 73% of online adults are now using social networking sites like Facebook, Twitter and Instagram. 42% of adult online users are now using multiple social networking sites and checking the sites on a daily basis. The dominant social networking site in number of users is Facebook. So expect to be making friends with more seniors on your account.
Social media isn't just for teens and young adults anymore. Older people are becoming computer and social media literate. Study shows that the menopause generation is flocking to popular sites like Facebook, Twitter, LinkedIn and Instagram. They are creating profiles on social network and keeping in touch with family members and friends. It only shows that senior citizens are more active in social media than we thought. Seeing the trend the internet has begun launching networks specifically for them.
Some of the most popular social networking sites created for the menopause generation are:
Senior.com is a free website which provides users with information that is useful for communication. This helps seniors stay connected with family and friends plus some tools to find helpful services in the area. It also features articles about health, money, food and relationship.
MyBoomerPlace is the place to meet, congregate and develop new relationships. This is a site designed for seasoned travelers in their 50's, 60's and 70's. Registered members can view forums, videos, picture galleries and classified ads.
The Cool Grandma is a social networking community for seniors. There are chat rooms to interact with seniors of similar interest. Members can post in active forum and view news and information about social science, cooking, home and garden and a lot more.
AARP Online Community this free networking site offers picture sharing with friends and family. This site is user-friendly for seniors and has fun applications like senior e-news, photos, videos, games and discounts. Members have easy access to webletter with latest news and information.
Greater numbers of older adults are joining these sites. Researchers have discovered the benefits that arise following adoption to social media. The study found that participation in social networking can bolster cognitive health for seniors. Members of the menopause generation with positive social interaction have elevated moods and fewer instances of negative habits like smoking, depression or disease.
Being active on social media allow seniors to remain informed on the latest technological trends and connects them to family and friends even on different location. Social media help seniors to engage in research and learn topics of interest. These activities can lead to formation of new business, new hobbies and health information. Other benefit of social media to seniors is the ability to access education opportunities. Some state colleges offer free tuition fee for senior citizens.
Seniors who engage more on social media sites are more likely to participate in leisure and health activities like cooking and cleaning the home. Researchers also found that older adults active on social media had fewer instances of diabetes and lower blood pressure compared to those who were not active.