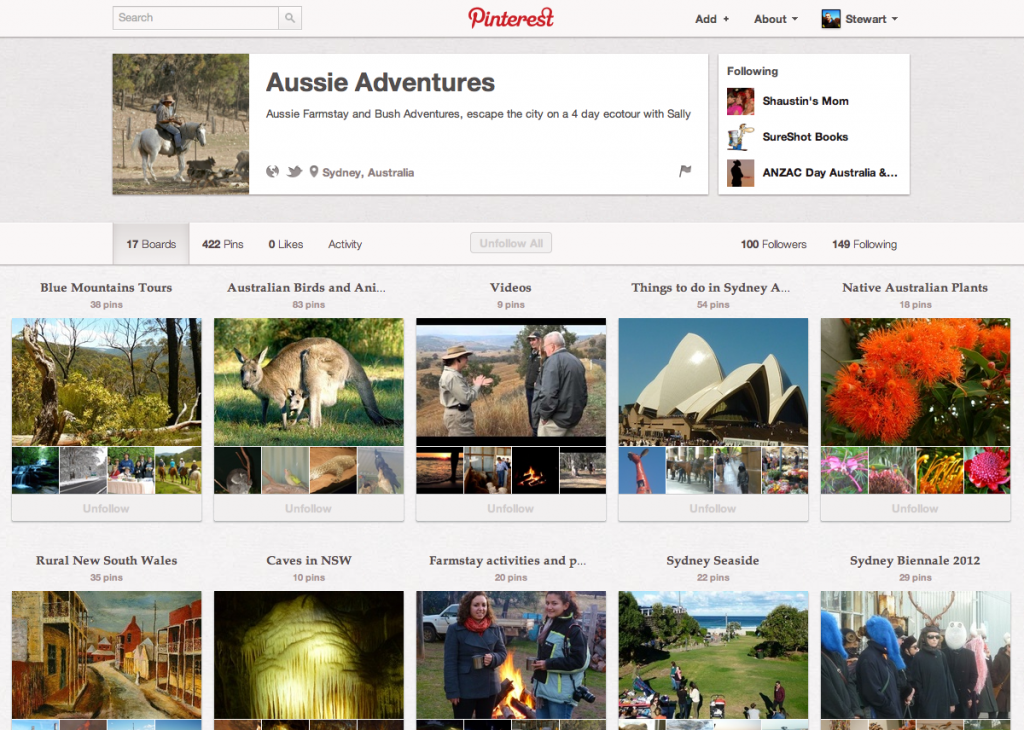 Our client Aussie Farmstay have a fantastic presence on social media.
They have over 13,000 authentic, organically-grown followers on Twitter.
Over 3,600 organically-grown fans on Facebook: Aussie Farmstay
Together we've furthered their Pinterest profile because they simply have so many stunning images – and we've put together the following pages:
As well as 14 other Australiana-themed Pinterest pages.
We'll continue to rank them high on Google for a range of key search terms, such as:
And of course no discussion of SEO is complete without an update on rankings, this update being 18 January 2012:
Farmstay holidays from Sydney – a #8 and #9 ranking for this term for Aussie Bush Adventures just the tip of the iceberg.
Tours from Sydney – a lot of work to be done, currently the only tours from sydney ranking is is the client's original website at #58 on Google.
Blue Mountains tours – currently only a #36 ranking.
Blue Mountains attractions – new page recently added to secure better rankings for this as the client is not seen on the first ten pages.
Most Searched Terms:
Blue Mountains tours, outback tours, day trips from Sydney, Blue Mountains day trips, horse riding Blue Mountains,