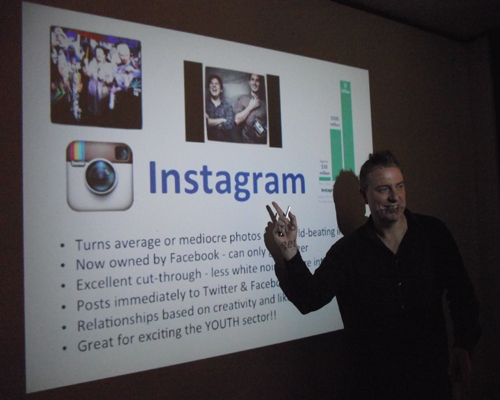 Instagram is bread & circuses combined with smoke & mirrors. It's a place where your business can create a populist lifestyle profile to draw people in – a magazine hook – should you need to make your boring, staid company have a bit more hipster appeal. Visibility is where we can be of huge help to your business – it's not just likes & follows – including the crucial addition of a comment if the image has over 11 likes – but it's the relentlessness of having targeted demographic visibility done every day all year round – so peopleknow of your brand on instagram as a first point of discovery.
"I discovered your brand on instagram". This is what our clients hear continually.
Some interesting considerations which will be developed into articles in the coming weeks:
Definitely have emoticons eg emoji in your toolbag.
Is there a magical babushka factor? Eg @alexsydneymagic
Hashtags – collect batches of them. Delete hashtag batches but sometimes keep the most obscure and/or relevant ones in place.
Other social media: select which social media to instantly post to eg twitter, and recycle your self-created visual content on FB & Pinterest.
When u have your instagram & twitter hooked up then when people mention u on instagram it will instantly tweet your correct twitter name on twitter.
Make a list of allies.
Play the exotic location card.
How to turn a 23% follow-back rate into an 80% follow-back rate. Eg cherryrose9.
Drip feed. One event or outing can supply a fortnight's images.
If you're inclined then use instaweather, instaplace, instacollage, instatag, instavideo  etc.
Regard your phone as your own personal istockphoto library.
The cult of food will never die: wizzfood alvinquah_ chocolatesuze talkandspoon etc
Finding community: selectively follow other people's followers: follow hashtag flows eg #vividsydney and also use Four Square to find location demographics.
What I'd like to see: insta posts to business pages.
Beware: people who like heaps of your photos without following you.
You can block people & report abuse & spammers.
You can access your account online but to extract photos u need extragram.
You can use instagram in hootsuite but I haven't figured out how to add photos – seems u can't do it.
Instagram bit unwieldy re accessing past photos. Pinterest better for storage by category. Insta is all chronological. Same problem twitter & Facebook.
Other effects on photos,: shapely, shapic, textmask, fisheye, pip camera, instaframe, @abeautifulmess
Most Searched Terms: instagram management, instagram ROI, instagram for business, instagram creative development, instagram market reach, instagram marketing techniques, instagram for business management training sydney melbourne brisbane perth adelaide australia.